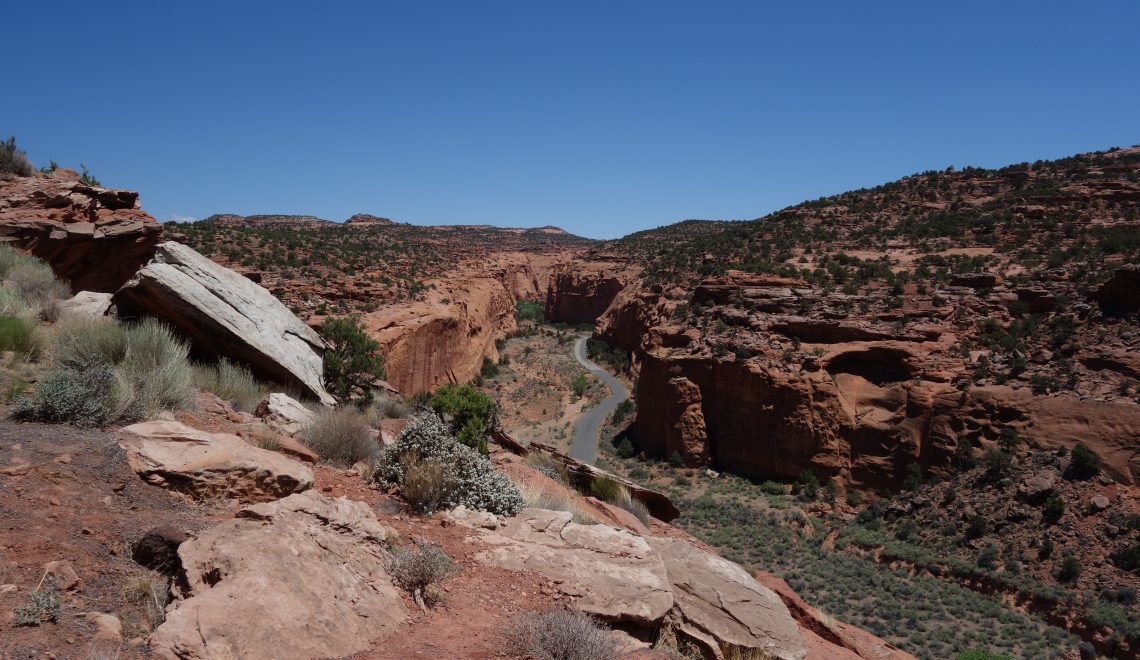 (english version below)
Burr Trail ist eine dieser alten Verbindungsrouten des späten 19. Jahrhunderts, die nach wie vor Bestand haben. Damals zum Zweck des Viehtriebs genutzt ist es heute eine mehr als schöne Strecke durch verschiedene Landschaften bzw Höhenlagen, da sie vom Colorado River (heute Lake Powell, 1100m) hinauf nach Boulder, Utah, 2050m führt.
Highlight sind wieder ein in quasi eine Wand gehauener Serpentinenabschnitt und ein 11km langer, von tiefroten Felsen begrenzter Canyon.
Auch ein Wahnsinn dann die Utah State Route 12 wo der Trail endet: Nach Beschreibungen im Ganzen schon eine mehr als sehenswürdige Strasse (A Journey through Time Scenic Byway), aber der Abschnitt zwischen Boulder und Escalante hat es wirklich in sich: Zwischen links und rechts des Asphaltbandes steil abfallenden Canyons zieht sich die Strasse über den Bergkamm in mehreren Kurven um dann in die Schlucht des Escalante Rivers zu 'fallen' – sehr spektakulär!
xxx
Burr Trail is one of these old but still existing routes, used back in late 19th century as a cattle trail and now gives you are more than scenic ride through several landscapes.
Highlights are a switchback section and a 7 mile long canyon bordered by deep red rocks.
Also pretty stunning is Utah State Route 12 where the trail ends: Obviously the whole road is pretty scenic (A Journey through Time Scenic Byway) but the section between Boulder and Escalante is pure awesomeness: The road winds there between two canyons in some curves over the ridge just to 'fall' then into the canyon of Escalante River – spectacular!