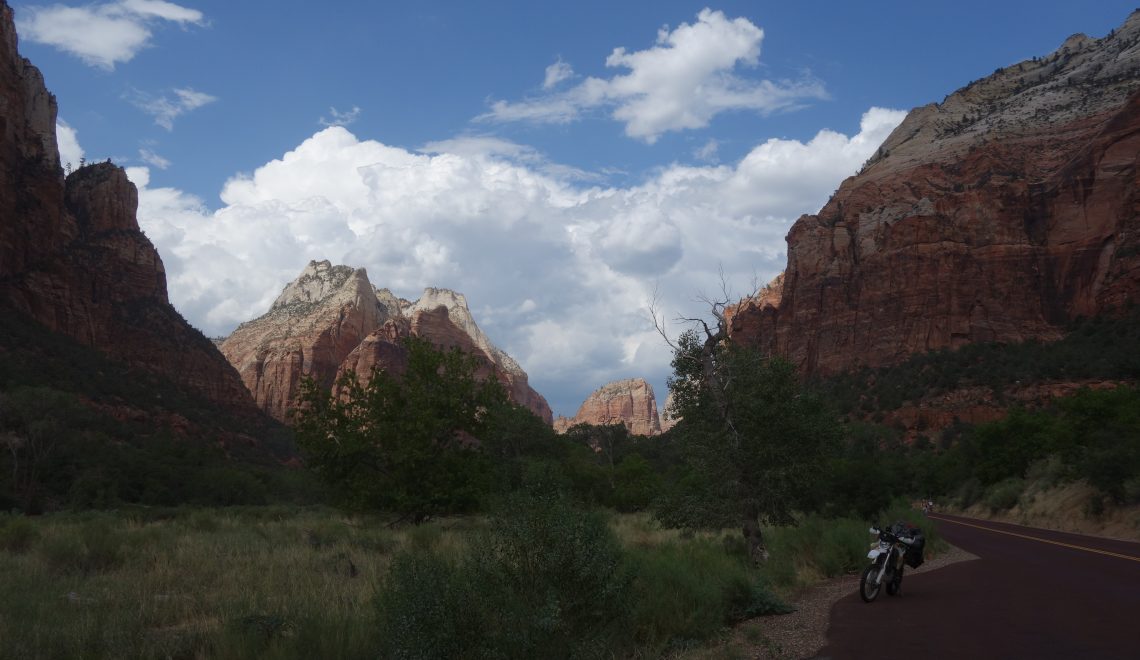 (english version below)
Als erstes sei einmal dieser Affront erwähnt – eine Fast Food Kette namens Wienerschnitzel, die Hot Dogs und Burger verkaufen, aber natürlich keine Schnitzel. Wahrscheinlich nedamal wissen, was das ist. Jo bitte, wo samma da? (In Kalifornien.) Das der Arnie da nix unternommen hat, enttäuscht mich jetzt schon schwer.
Na wurscht, weitergefahren und einen super Campspot in der Wüste gefunden, wunderbarer Sonnen- und Windschutz durch so Riesensteine, die auch eine super Szenerie schaffen.
Dann schon ein gutes Stück weiter, wieder in Utah, bei den Cedar Breaks vorbeigekommen, mitten im Gebirge auf 3000m dann plötzlich diese irren Sandsteinabbrüche und Formationen.
An diesem Tag eigentlich nur am Davonfahren vor Gewittern gewesen, hat auch eigentlich ganz gut geklappt, nur in einen Schauer gekommen. Das läßt sich aushalten wenn's ohnehin 40 Grad hat.
Nur leider ist dem heftigsten dieser Gewitterzellen mein Besuch des Bryce Canyon (ähnlich der Cedar Breaks, nur größer) zum Opfer gefallen, der war wegen Überflutung gesperrt. Naja, besser als ich bin grad drinnen…
Also gleich weiter zum Zion Nationalpark gefahren, der dann ein bißchen enttäuscht hat. Dafür dass dieser immer zum besten und beliebtesten Nationalpark Utahs hochgelobt wird…find ich eher mittel aufregend. Aber trotzdem schön! War halt teilweise recht Wolkenverhangen.
xxx
Dear US Citizens: How can it be possible that there is a fast food chain called 'Wienerschnitzel' and they don't even serve Wiener Schnitzel? I doubt that they even know what a Wiener Schnitzel is…do you know? If not: Book a flight to Vienna right now and find out! GET TO THE CHOPPER! NOW! (would Arnie say for sure)
Well anyway, so I went on and found a decent campspot in the desert. Nice boulders spent shadow and kept me out of the wind and those boulders made also a pretty nice scenery.
Then quite a bit further, already back in Utah, I came by at Cedar Breaks – pretty cool. Suddenly in the mountains those cool sandstone formations and cliffs.
On this day I pretty much was just escaping thunderstorms. Was working quite fine as I just came through a shower once what is actually not that bad when it's a 100 degrees outside.
Just on of these showers flooded Bryce Canyon so I couldn't visit it as they shut down all the roads…well, definitely better than being in there at this moment.
So I went on to Zion National Park and have to say that I was a bit disappointed. For being Utah's prime destination I would have expected more awesomeness. Anyway beautiful, just a bit cloudy at some points.