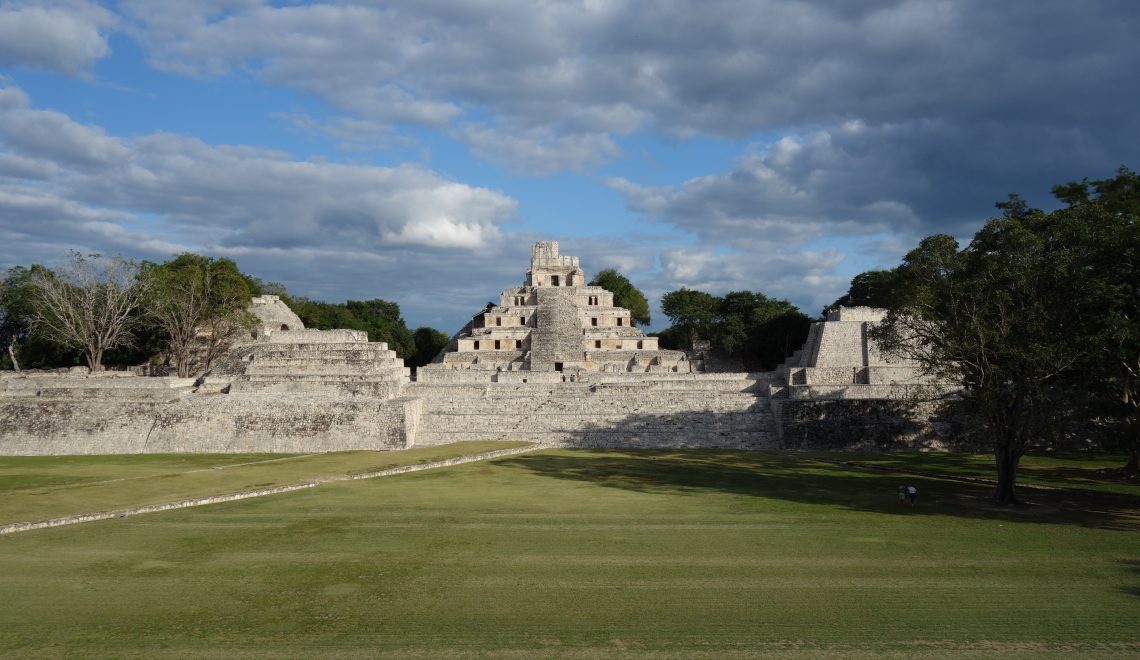 (english included below)
Weiter ging es von Santa Elena, wo ich Quartier für die Uxmal-Region bezogen hatte, nach Edzna, einer weiteren ehemaligen Mayastadt. Wie schon erwähnt, recht lange Fahrzeiten auf laaaaangeeen, geeraaadeeeen Dschungelstraßen. Dann natürlich weder Campingmöglichkeiten noch Quartiere in der unmittelbaren Umgebung der Ausgrabungen, also am Weg in Hopelchén Hotel gecheckt und dann die Stunde weiter nach Edzna.
Auch eine weitgehend vom Dschungel befreite Stätte, allerdings war ich quasi alleine dort (vielleicht 5,6 andere Hanseln) – und was für ein Tempel! Nur über ein Portal zugänglich, auf einer Plattform gelegen, an deren Ecken weitere Pyramiden sind. Sehr mächtig.
Außerdem jede Menge Leguane, auf jedem Steinehaufen haben die ihre Höhlen und Schlupflöcher. Eine Pyramide wurde von einem Geier bewacht, der sich nicht wegbewegen wollte – also hab ich auf's weiterklettern verzichtet…
Am Rückweg zum Hotel noch schnell am Straßenrand eingequietscht, weil noch eine Mini-Ruine: Tohcok.
Dann noch wunderbarer Sonnenuntergang überm Dschungel vom Hotel aus bewundert, so kann ein Tag zu Ende gehen!
Nächste Etappe dann Richtung Calakmul!
xxx
From Santa Elena, where I was staying for the whole region around Uxmal, i rode on direction Edzna – another mayan site. Like already explained pretty long distances on pretty loooong and boooring straights through the jungle. As around Edzna is nothing to camp or to stay at I already checked a hotel along my way in Hopelchén.
Like Uxmal pretty much cleared from the jungle but I was there almost alone (maybe 5,6 other people around) – and what a temple! On a platform that also works as barrier with smaller pyramids in the corners – stunning!
Also a lot of iguanas, they have basically on every structure their holes and hideouts. On one temple a vulture just didn't want to move, so I decided not to climb on…
On my way back I made a quick stop on the side of the road – because of another mini-site: Tohcok.
And at the hotel i could watch a beautiful sunset over the jungle, that's how an interesting day is supposed to end!
Next I will head direction Calakmul!