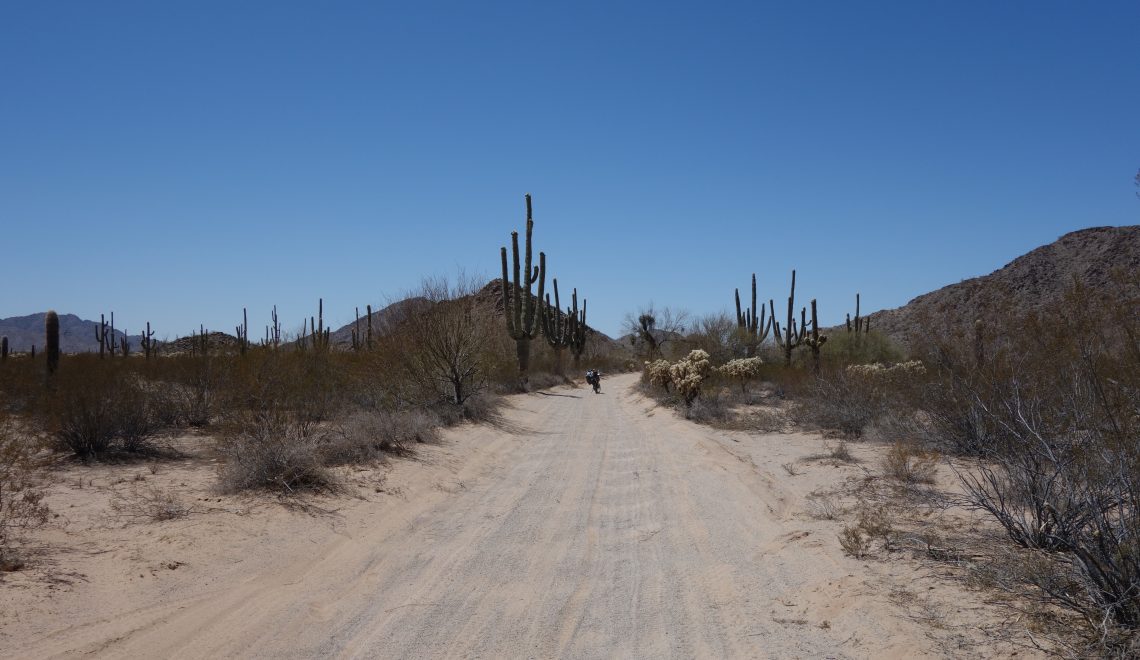 (english included below)
Von Ajo nach Yuma kann man über die Interstate fahren oder….130 Meilen quer durch die Wüste. Alte Verbindung mit berüchtigtem Namen hier in drei  Teilen, da einfach zu schön und deswegen zuviele Fotos 😉
Von Ajo fährt man erst einmal in eine Wildlife Refuge, bei deren Headquarter man sich auch die nötige Permit für die Befahrung holen kann. Vorbei an unglaublichen Wüstenlandschaften wird das Geläuf auch immer sandiger und tiefer, was natürlich zu einem Umfaller führt – nicht auf den Bildern: Ungefähr 3 Minuten nach dem Niederlegen (Motorrad war müde!) und 1 Minute nach dem wieder Aufstellen kam der Ranger angefahren…also Hilfe gäbe es eh überall.
xxx
From Ajo to Yuma you either can take the Interstate or….go 130 miles through the desert. This old trail here in three parts as it was so awesome I just had to take too many pictures 😉
From Ajo you first enter a wildlife refuge at which headquarters you also get the necessary permit for this road.
Passing stunning sceneries the soil got more sandy and more deep, what made the motorcycle tired – so it had to lay down. Not on the pictures: Shorty after the lay-down a ranger came by…so even in the middle of nowhere you could find help.