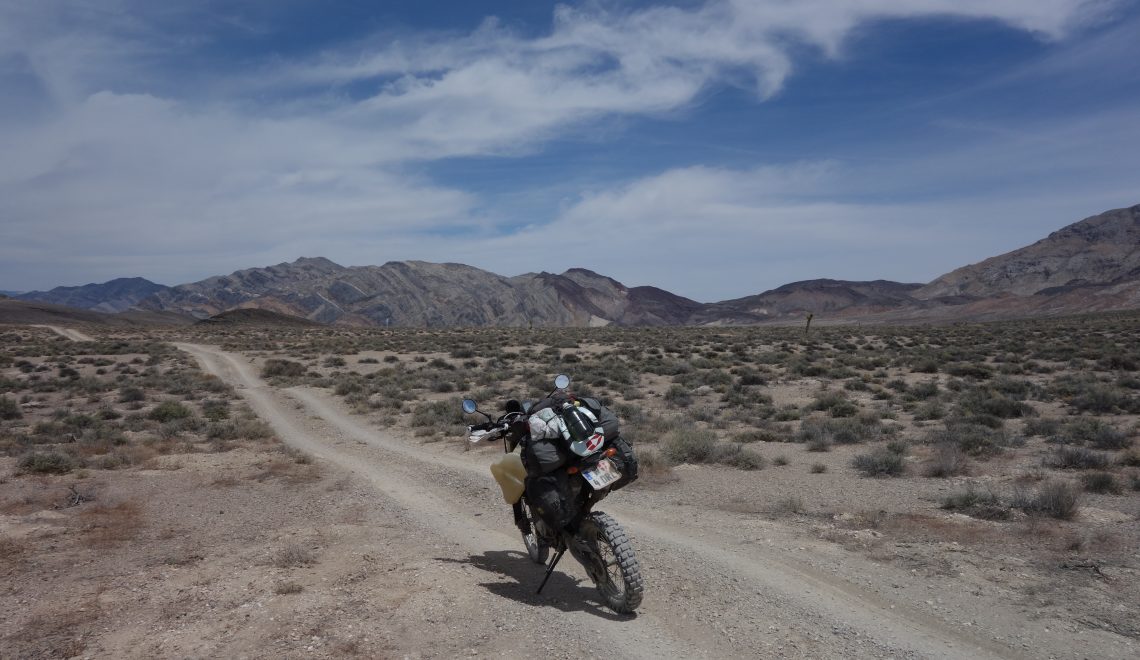 (english included below)
Im Death Valley Nationalpark gibt es einige nette, unbefestigte Wege – einer davon ist der Steel Pass. Er verbindet das Saline Valley mit den Eureka Dunes, die sonst nur durch das Umfahren der Berge zu erreichen sind. Wäre sich auch in einem Tag ausgegangen, aber so war's lustiger.
Zuerst folgt man mehr oder weniger dem Flußlauf bergauf, bevor einige recht ausgewaschene Steigungen kommen und man kurz vor dem Pass das sogenannte Marbles Bath erreicht. Also das muß man schon aktiv suchen, da es gekonnt hinter einem Felsen versteckt ist. Finde ich eine super Idee, da mitten im Nichts eine Badewanne aufzustellen/einzugraben 🙂
Oben dann durch Joshua Trees und immer diese wahnsinns Felsformationen im Blick, zu einer Schlucht, wo dann 4 trockene Wasserfälle/Felsstufen warten. Nach erstem Schreck gar nicht so schlimm, einen bin ich die WR runtergegangen, den Rest gefahren…und als Belohnung dann die Dünen.
Der Sand wird zwar glaub ich nie mein bester Freund, aber irgendwie grab ich mich immer wieder durch.
Dafür war die Maschin' schön eingepudert und auch der Zeltplatz war nicht übel.
xxx
In Death Valley National Park there are some nice 4×4 tracks – one of them is Steel Pass. It connects Saline Valley and the Eureka Dunes, the other way is around the mountains – half the fun.
First you go up a wash for quite a while before it get's steeper but still washed out. Short before the pass you can enjoy Marbles Bath but you have to look for it. Someone has hid a bathtub up there in the middle of nowhere – I really dig it!
Then through Joshua Trees, always looking at those gorgeous rock formations, into a canyon where 4 dry waterfalls challenged me. In the end I walked the WR down one and the rest I rode. Then a section of deep sand as it's the dunes – at least I don't fall anymore.
The bike was pretty dusty afterwards and a campspot right next to the dunes.