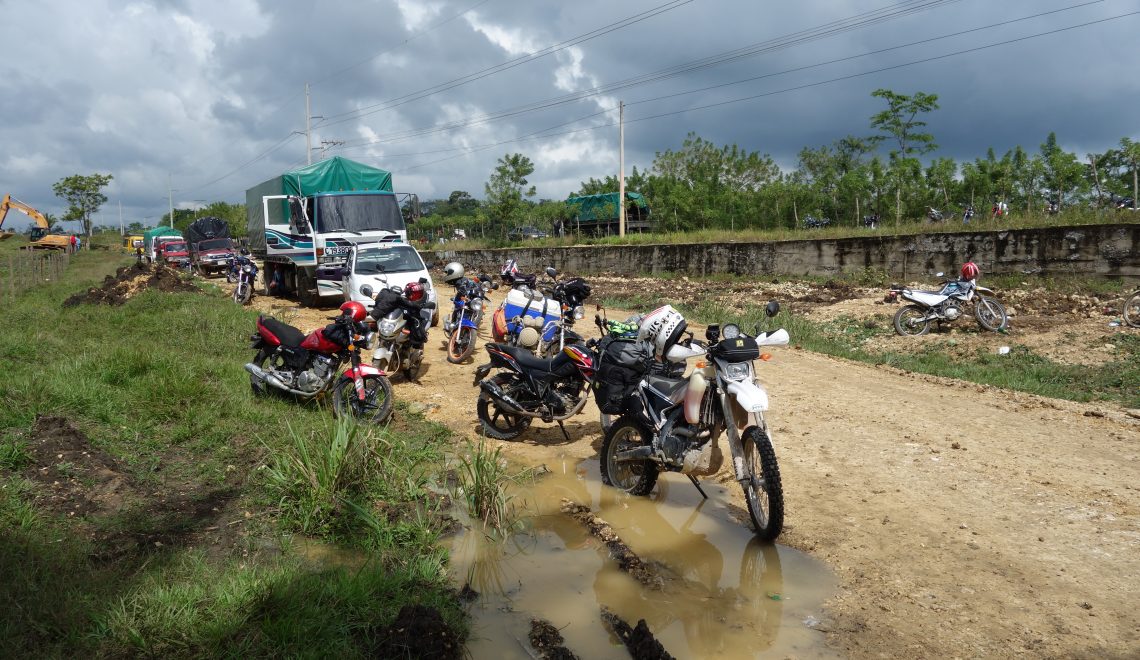 (english included below)
Nachdem ich in Sayaxché also quasi alles erledigt habe, was dort so zu tun ist, geht's weiter nach Coban. Mehr oder weniger nur Kilometerfresserei, aber unter anderem durch eine der schönsten Landschaften (für mich) in Guatemala. Kleine, mit Regenwald bewachsene, steile Hügel, wo sich dann die Strasse durchwindet. Aber erst einmal los und nach einer halben Stunde plötzlich Riesenstau – ich kenne die Strecke eigentlich und da ist eigentlich nix, was Stau auslösen könnte und schnell war klar: Da wo normaler Weise eine (kleine) Brücke ist, ist jetzt keine mehr. War wohl doch zuviel Regen die letzten Tage. Aber es wurde ja schon gearbeitet, dazwischen wieder angeschaut und besprochen, dann wieder einzeln Steine hingetragen….
Naja, nach 2 Stunden war die Behelfsbrücke fertig (also 2 Stunden hab ICH dort gewartet) – zumindestens für uns Motos ging es jetzt weiter.
Wie beschrieben durch die schöne Landschaft, dann noch vorbei an Kaffeeplantagen und trotz der Verzögerung noch rechtzeitig vor der Dunkelheit in Coban Quartier bezogen. Morgen geht's dann weiter nach Antigua – endlich Vulkane!
xxx
After I visited basically everything what's around Sayaxché, I went on to Coban. More or less just making miles but it will bring me through one of the most beautiful landscapes here in Guatemala. Small, steep hills, covered in rainforest and the road winds through it. But yeah, first I leave Sayaxché, not without stopping 30 minutes later because of a huge traffic jam. As I know this road I start to wonder, as there is actually nothing what could cause such an hold up but well, there should be a small bridge but it obviously isn't anymore – one of the heavy rainfalls in the last days must have swept it away. But they were already working on it, then looking and discussing, then some people brought some stones on their own and finally, after I waited for 2 hours, at least we motos could pass.
So then as I said through pretty nice scenery, also came along a coffee farm and I even made it before dark to Coban.
Tomorrow I'll leave for Antigua – finally some Volcanoes!